About The Law Offices of
Cullan & Cullan M.D., J.D.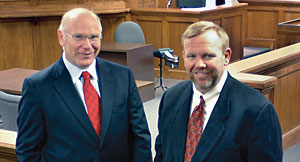 When fighting the big nursing home insurance companies, you will want an attorney who knows the intricacies of nursing home abuse and neglect form both a legal and medical perspective. Dr. Gene Cullan and Dr. Sam Cullan provide the unique combination of medical and trial experience you need to win your case. Their extensive knowledge of medical anatomy, physiology, and biophysics, coupled with their experience in serious personal injury, nursing home abuse, and medical malpractice law, enables them to fight more aggressively and effectively for your rights. Dr. Gene Cullan and Dr. Sam Cullan each have an intense passion for helping people of all ages who need someone to fight for them, and they share a special passion in helping injured children and the elderly. We are lawyers who are doctors, and we fight nursing home negligence and abuse.
In addition to nursing home negligence and abuse cases, the Law Offices of Cullan & Cullan M.D., J.D. also helps those who have sustained injuries in car, semi-truck, and motorcycle accidents as well as medical malpractice and wrongful death cases.
For more information on nursing home abuse, visit our website at www.StopNursingHomeAbuse.org.
Our nursing home attorneys will work hard to get full compensation for our clients and their innocent families. If your loved one has been the victim of nursing home neglect or nursing home abuse, please e-mail or call 602-472-0000 or toll free 1-877-450-6551 today. All consultations are FREE and our lawyers work on a contingency basis. This means that you pay NOTHING until your case is WON!